The '43 Group
The '43 Group was formed in August 1943, fifty years ago. This account is the first ever undertaken to chronicle comprehensively the achievements, over most of that period, of its principal members – W. J. G. Beling, Aubrey Collette, Justin Daraniyagala, Ivan Peries, Harry Pieris, and Lionel Wendt – now all dead – and George Claessen, Richard Gabriel and George Keyt; and of Manjusri and others.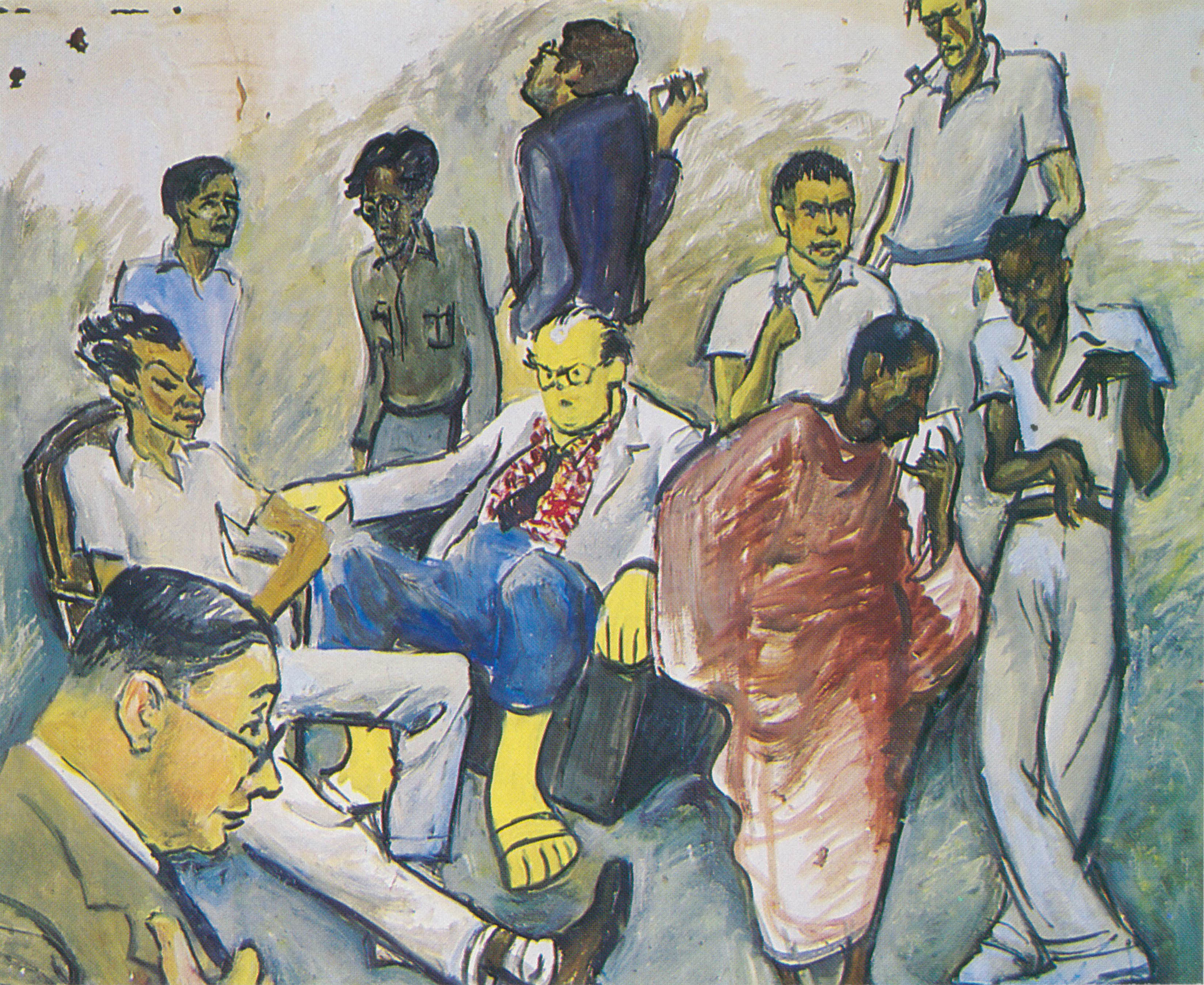 Drawing on reports, reviews, contemporary criticism, and the memoirs of some founder-members, this picture is complemented with the help of illustrations gathered by Dominic Sansoni whose work as a photographer is valued and recognised world-wide.
Ian Goonetileke who has contributed the Foreword to this book and who has provided a select bibliography on the '43 Group is the author of the monumental six-volume Bibliography of Ceylon published in Switzerland.
This chronicle has been written by Neville Weereratne, one of Richard Gabriel's first pupils at St Joseph's College, Colombo, in 1944. Through him he came to meet and later to be closely associated with Arthur van Langenberg in designing for the theatre. In the early 1950s, he served an "apprenticeship" under Ivan Peries who, with Gabriel, led him to the '43 Group, to informal lessons with Harry Pieris, and to meetings with Geoff Beling, Justin Daraniyagala and Aubrey Collette. Through Gabriel too, Weereratne also came to be associated with Mrs Cora Abraham, the Melbourne Art Classes, and the Young Artists Group.
Weereratne exhibited with the '43 Group regularly between 1952 and 1960, and was a member of the committee. He has since held exhibitions of his work with that of his wife, Sybil Keyt, in Colombo and in Melbourne. They also took part in several ad hoc studio exhibitions in Colombo between 1961 and 1964, with other painters including Richard Gabriel, Sita Kulasekera, Manjusri and the sculptor Tissa Ranasinghe.
Weereratne was a journalist with the Ceylon Daily News and the Ceylon Observer from 1954 to 1967, then editor of publications for the Ceylon Tourist Board from 1967 for four years before migrating to Australia in 1971 where too, he worked as a journalist until November 1989.
Neville and Sybil Weereratne have three sons and a daughter, and seven grand-children at the time of this publication.